For Immediate Release
4/18/13
PITTSBURGH, PA – State Sens. John Rafferty (R-Berks/Chester/Montgomery) and John Yudichak (D-Luzerne/Carbon/Monroe) today addressed dozens of criminal justice professionals from across the state about the dangers of gangs and new state laws designed to help communities put a stop to gang violence at the Pennsylvania Gang Conference in Pittsburgh.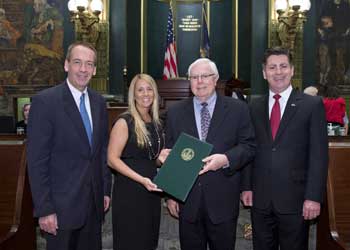 "It was an honor to speak before some of the men and women of our law enforcement community serving on the front lines in our continuing battle against the proliferation of gangs in our Commonwealth," Rafferty added. "I am pleased to have worked on two significant law enforcement pieces of legislation that have recently been signed into law, this anti-gang legislation and the much needed updates to the Pennsylvania Wire Tap Act. I am committed to working with my colleagues like John Yudichak to ensure that we continue to give our law enforcement officials the tools they need to effectively protect our public."
The new law, which was co-authored by Yudichak and Rafferty, increased sentences for crimes committed in support or promotion of gang activity and made gang recruitment a crime. It also broadened enforcement tools by treating gang recruitment by jailed gang members with the full force of the law.
"Gang violence is not unique to big cities; the influence and reach of dangerous gangs is spreading to small communities across the Commonwealth and the discussions at today's conference shed some light on what we are doing right, and what we can be doing better, in our fight to keep gangs out of our neighborhoods," Yudichak said. "Late last year, a new law was enacted that gave local law enforcement more tools and significantly increased the penalties for gang-related crimes – but our work, even legislatively, is far from done."
The conference was hosted jointly by MAGLOCLEN, the East Coast Gang Investigators Association (Pennsylvania Chapter), the Pittsburgh Bureau of Police, the Allegheny County District Attorney's Office, and Sens. Yudichak and Rafferty. It was held at the Holiday Inn Pittsburgh North Hotel & Conference Center.
The state's first gang-specific law, House Bill 1121 of last session, added Pennsylvania to the ranks of 20 other states that make recruiting gang members a crime. The legislators added that state Sens. Dominic Pileggi (R-Chester/Delaware) and Ted Erickson (R-Chester/Delaware) were also instrumental in crafting the anti-gang law.
CONTACT:
Ryan Boop (Senator Rafferty)
(717) 787-1398
Jeff Cavanaugh (Senator Yudichak)
(570) 883-4690