For Immediate Release
4/17/13
(HARRISBURG) – Recognizing the importance of financial and economic knowledge, the state Senate has passed a resolution authored by Senator John R. Gordner (R-27) to designate April as "Financial Literacy Month" in Pennsylvania.
"Knowledge of finance is essential to ensure individuals are prepared to manage credit and debt, invest, and become responsible workers, business leaders and entrepreneurs," said Senator Gordner.  "A knowledge of finance has been linked to lower delinquency rates for borrowers, higher contributions to savings and retirement plans, and a higher net worth."
Senate Resolution 92 encourages employers, schools, financial institutions and the media to provide opportunities for financial literacy education by collaborating with organizations such as Economics Pennsylvania in Selinsgrove.  Economics Pennsylvania is the largest not-for-profit financial literacy organization in the Commonwealth.  Information about the group may be found at its website at www.economicspa.org
Pennsylvania Financial Literacy Month is also designated in conjunction with the National Council on Economic Education, the Jump$tart Coalition for Personal Financial Literacy and state affiliates and partner organizations' financial educational efforts during National Financial Literacy Month.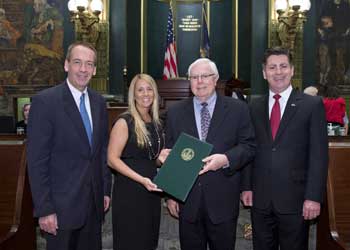 Senator Gordner (l) and Lieutenant Governor Jim Cawley (r) present Senate Resolution 92 to Jennifer Dodge,
Director of Governmental Relations and Fritz Heinemann, President, of Economics Pennsylvania.
CONTACT:
Todd Roup
(717) 787-8928