The Senate Appropriations Committee will hold three weeks of public hearings on the proposed spending plan February 18-March 4.
A daily summary of budget hearings, with key issues and hearing video.
Responding to Governor Wolf's budget address, Senate Republican leaders said they are encouraged that the proposal does not include broad-based tax increases. However, they are concerned about $1.5 billion in additional spending and more than a billion dollars in new borrowing in the governor's proposal. They believe Pennsylvanians deserve a state budget that is fiscally responsible and sustainable.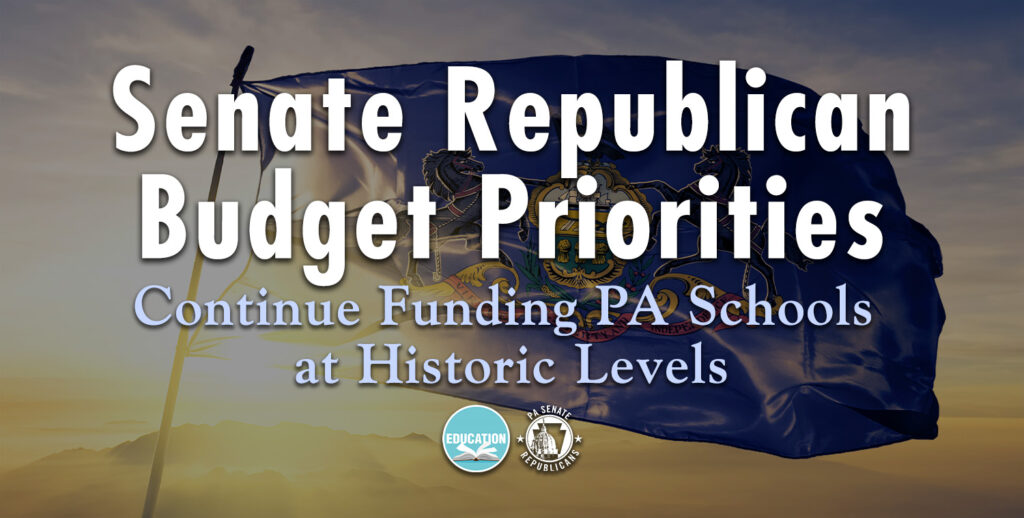 Senate President Pro Tempore Joe Scarnati (R-25): "Senate Republicans remain committed to a budget that respects taxpayers while helping continue to foster job growth and economic development across our Commonwealth. Governor Wolf's massive cut to school safety funding while wanting to spend over $1.5 billion more this year is immensely concerning. Ensuring that students and teachers feel safe in their learning environments is a crucial part of helping children to learn and succeed. I look forward to working with my colleagues to make sure the final 2020-2021 fiscal year budget addresses the needs of every area of our Commonwealth."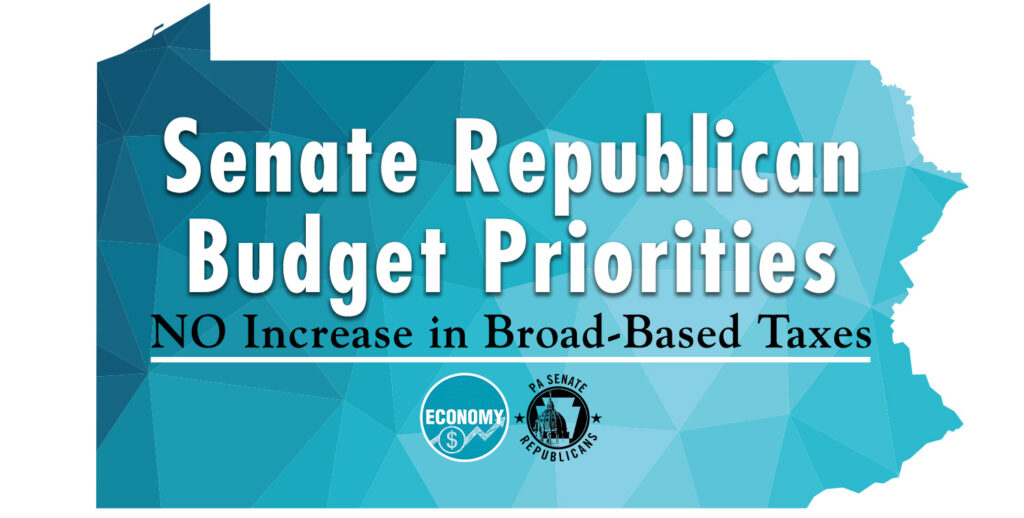 Senate Majority Leader Jake Corman (R-34): "What we are seeing here is a regurgitation of many of the Governor's same old policy proposals. This budget contains more than a half-a-billion dollars in tax increases on employers and other things that play to his base of supporters. We will start from the beginning and continue to unshackle employers from the unnecessary regulatory and tax burdens. As we go through this process, we will hold the governor to the policies that have led to record high wages and record low unemployment."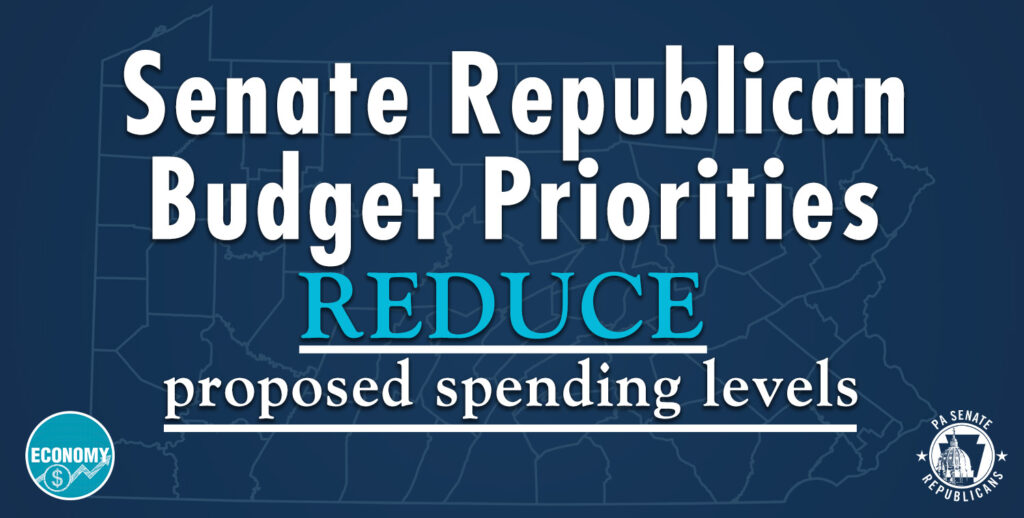 Senate Appropriations Chair Pat Browne (R-16): "The Commonwealth has not been in this solid of a financial position in more than a decade. While this is certainly welcomed news, it is critical now, more than ever, that we remain fiscally disciplined and cautious when setting budget priorities and a FY 2020-21 spending number. The Governor's budget proposal contains large spending increases over the previous year of 4.5 percent, which is well over the rate of inflation and considerably higher than previously enacted budget spending increases. That, coupled with a significant number of supplemental increases by the Governor, creates a risky financial profile for the future of the Commonwealth. This has the potential, if revenues fail to reach expectations and supplemental increases continue into the future, of greatly increasing the long-term structural imbalance of the Commonwealth's finances. That is something the General Assembly, led by Senate Republicans, has worked extremely hard to reduce over the previous several years with conservative budgeting."
---
Thumbnail of Governor's 2020-21 budget proposal
As we prepare to thoroughly review the Governor's Fiscal Year 2020-21 budget proposal, Senate Republicans remain committed to enacting a fiscally responsible budget in a timely manner while protecting the interests of Pennsylvania's taxpayers.
Today is the beginning of a process that will span several months. We will study all of the Governor's recommendations, consider the limits of funding that we expect to have available, and work to craft a final budget that utilizes our resources for the maximum benefit of all citizens of the Commonwealth.
As part of our deliberations, the Senate Appropriations Committee will hold a three-week series of departmental budget hearings beginning on February 18. The hearings provide an opportunity for the Appropriations Committee to hear cabinet secretaries and other Administration officials detail their plans for the upcoming fiscal year.
The Basics
The Governor is proposing a $36.1 billion General Fund Budget for Fiscal Year 2020-21. That represents a $1.5 billion increase (4.2 percent) from the FY 2019-20 budget of $34.6 billion.
The Administration is projecting a Fiscal Year 2019-20 ending balance of $4 million, of which $1 million will be placed in the Rainy Day Fund. The Administration projected a Fiscal Year 2020-21 ending balance of $6 million.
Education Funding
$100 million increase (1.6 percent) for basic education to $6.4 billion.
$30 million increase for early childhood education.

Pre-K Counts, up $25 million (to $242.3 million) an 11.5 percent increase.
Head Start, up $5 million (to $69.2 million) a 7.8 percent increase.

$25 million increase is included for special education (to $1.2 billion), a 2.1 percent increase.
$13 million increase (2.7 percent) is included for the State System of Higher Education (to $490 million).
$42.8 million increase (11.6 percent) is included for PHEAA (to $412.8 million). That total includes a $29 million (9.3 percent) increase to the PHEAA Grants to Students Program and an $8.9 million (160.4 percent) increase in funding for Ready to Succeed Scholarships to $14.5 million.
State-Related Universities and Community Colleges are flat-funded for Fiscal Year 2020-21.
Increases state contributions to PSERS by $119 million (4.5 percent) ($2.7 billion).
The Governor is proposing charter school reform measures, which he projects to provide $280 million for local school districts.
He is again promoting a $45,000 minimum wage for teachers, but does not include funding in his budget request. Instead, school districts would be directed to use the revenues they receive from the above referenced charter school reforms.
The Governor wants to mandate universal full-day kindergarten. As with the minimum wage for teachers proposal, he is touting the charter school reforms as the mechanism to pay for the new expenses. This mandate would impact 72 school districts (Administration estimates) and approximately 22,000 students (Senate Republican Appropriations Committee estimates).
Notable Funding Reductions/Eliminations
The Governor proposes to cut $45 million in Safe School Grant funding — to $15 million.
He is again proposing to reduce or eliminate several other budget line items including:
Agriculture
Agriculture Research $0 (-$2.2 million)
Promotion, Education $0 (-$553,000)
Exports
Hardwoods Research $0 (-$474,000)
and Promotion
Livestock Show $0 (-$215,000)
Livestock and Consumer Health Protection (-$1 million)
Animal Health and Diagnostic Commission (-$2 million)
Open Dairy Show $0 (-$215,000)
Food Marketing and $0 (-$494,000)
Research
Health
Diabetes Programs $0 (-$200,000)
Regional Cancer Centers $0 (-$1.2 million)
Lupus $0 (-$100,000)
Regional Poison Control $0 (-$700,000)
Centers
Trauma Prevention $0 (-$460,000)
Epilepsy Support Services $0 (-$550,000)
Bio-Technology Research $0 (-$7.7 million)
Tourette's Syndrome $0 (-$150,000)
ALS Support Services $0 (-$850,000)
Leukemia/Lymphoma $0 (-$200,000)
Other Significant Proposals
The Governor has included a $6 million increase for the Pennsylvania Commission on Crime and Delinquency for gun violence prevention. He also proposes a $4 million increase (60.9 percent) for the Attorney General for the Joint Local-State Firearm Task Force ($11 million).
The Governor is calling for a fee on all municipalities for State Police services. While details of this plan (based on population or number of service calls) are currently unclear, the Administration is projecting the tax to raise $136 million.
A new $3 million appropriation for Access to Reproductive Health Care is included in the Department of Human Services budget.
The Governor is again calling for the implementation of full combined reporting along with a cap on Net Operating Losses at 40 percent of taxable income as of January 1, 2021.
The Governor is proposing a $1 per-ton increase in the tipping fee for trash hauling and disposal to provide $23 million in funding for the Hazardous Sites Cleanup Program.
While funding for the General Assembly and the Judiciary (with the exception of the Judicial Conduct board — $37,000 increase) is flat-funded for Fiscal Year 2020-21, there is a proposed 4 percent for the Governor's Office and sizeable proposed increases for several other Executive Offices in the budget.